This year Dallan has developed and refined a production system for metal furniture shelves, which consists of two lines: the first for manufacturing uprights and accessory profiles, the second for manufacturing the shelf panels. Working together with the customer, the project started with a study of the actual product system (uprights, panels and all the necessary accessories for assembly and mounting).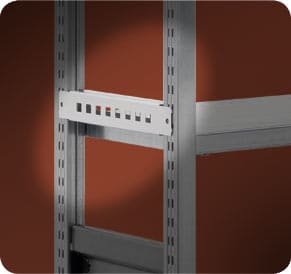 The panel production line is flexible so that 4 types of shelves can be made at an output of more than 420 panels an hour.
Similar systems set up for a high productivity rate turn out no less than 650 panels per hour. The Dallan® patented "Stitching" system has been used in making the shelf. Special rotary stitching equipment creates two closed tubular profiles along the two sides of the panel, which give it twice the load-bearing capacity compared to the open hem panel, thickness being equal. This means that thinner materials can be used or wider shelves made with saving on uprights and shelving assembly time.
The end quality of the panel makes it a piece of metal furniture rather than simple shelving: the finish and the excellent closing system make it suitable for use as a shelf for bookcases, libraries, office furniture and so on.