Dallan is integrating its range of machinery for manufacturing C Venetian blinds with flat and rolled-edge with the new automation for the assembly onto the ladder. The new rollforming system allows for the production of the Venetian blind curtain with C-shaped slats that can be made without operator intervention starting from the strip.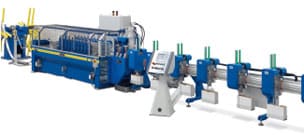 The production system includes:
- decoiler
- roll former
- machining unit and dies
- system for application of end pins with vibrating feeders
- system for inserting the profiles into the ladder
- palletizing robot
The system for inserting the profile into the ladder is extremely reliable with the technology protected by as many as 6 international patents. The machines for the manufacture and assembly of Venetian blinds are currently available in start-stop versions, with flying shear, and with intermediate storage units for very high outputs. The range includes single assembly and packaging machines to adapt to all customer demands.
Visit www.dallan.com where you can ask for the video of the new machines.