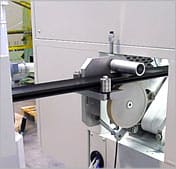 To satisfy the increasing market demands, Dallan has developed and improved the new T4N rollforming system for the production of roll-up doors in steel or aluminium, complete with Polyurethane foam with the height of 80, 90 and 100mm. This high quality slat, obtained using one single strip, guarantees the highest standards of quality and resistance.
The main application is the industrial doors and garages (instead of the sectional doors), with profiles that can be created in different thicknesses, materials and surface. The profiles are designed to the Dallan Standard, coming from the experience of Dallan company that has developed over 270 roller shutter blinds in 25 years of experience in this specific field.
The integrated production system maximizes the quality of the product and the production speed, and improves the winding, the installation, the resistance and the final aesthetics of the assembled curtain and door.
Our sales office is at your disposal for further information >>