Application: Dalcos PXN Unika

The first evolutionary coil punching machine.
Dalcos® Spa is presenting the new patented evolutionary coil punching machines PXN Unika at world machine tool trade fairs and exhibitions. The punching units in this innovative punching machine are interchangeable so that the possibilities for punching can evolve for the life of the actual machine.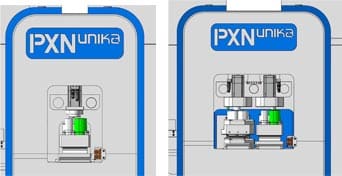 The punching speed of this range of punching machines is very high with a rhythm of up to 900 strokes a minute and the production capacity per piece is almost double that of classic sheet punching systems.
The closed structure system used on the PXN UNIKA systems is outstandingly robust and houses a multiple-position cylinder, which exerts a machining force of up to 20 tons on each tool.
These machines are available with 3 different set-ups for machining from 0.4 mm up to 2, 3 or 4 mm. They are particularly recommended for manufacturing pieces as wide as the coil itself, which means that there is no waste because the material is used 100%. Being high-production automatic machines with integrated safety devices, they require little supervision during work: this ensures extremely moderate hourly running costs and the amortisation time for the investment is therefore very short. That is why production can be achieved at a lower overall cost by punching with DALCOS® UNIKA.
The DALCOS® coil machining lines, including the UNIKA punching machines, are recommended for machining all types of pieces and also make it easier to machine very long pieces, where the traditional sheet punching machines would require many position adjustments. Machining is therefore far more precise and quick with DALCOS UNIKA.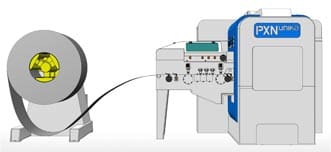 These machines integrate the patented VEGA Bialternato® clamp feeder, which ensures extremely high precision whatever the type of material, even the most delicate or when coated with protective film. Its mode of operation allows production times to be optimised since the coil can be moved into position both forwards and backwards.
Coil feed is also controlled by a roll feeder or a roll feeder with integrated straightener, depending on the application.
The DALCOS lines are modular in terms of number and configuration of the punching units, as can be seen in the sequence below. Multitool and G-Tool rotary tools can be integrated.
Up to 3 in-line presses can also be added for special production requirements to activate multiple machining and notching dies.

The UNIKA punching machine comes with new exclusive DALCOS CAM punching software that allows pieces in the same family to be machined with up to 50 variables one after the other with no stops or interruptions and no loss of material.
The range of UNIKA machines completes the other DALCOS ranges with the models PXN and ERGO, which can machine from as little as 0.3 mm up to 4mm in thickness for widths ranging from 20 to 1500 mm. The punching lines made by DALCOS as a whole are used either in stand-alone operation or placed before forming/bending and robotic bending lines, panel machines and roll formers.
They adapt to all processes where punched or perforated profiles or panels are needed. Thanks to the technology incorporated in the punching lines and the new PXN UNIKA in particular, these machines are popular and have been in use for many years, not least because of their capacity to evolve with the production of all clients and to meet the constantly changing demands of today's markets.
Take a look at our website www.dalcos.com/unika