Application: DALLAN® systems for metal doors

The door market is just one of the 12 main sectors that Dallan Spa specialises in. Mr Sergio Dallan, the founder of the company and an engineer, has been working ever since 1975 in the window and door frames sector, initially for other manufacturers of frames made with roll forming machines. He has to his name various publications that are specific to the steel window frame sector.
He put this wealth of experience in this specific sector into the company with the result that Dallan is now Europe's foremost manufacturer of systems for frames for reinforced security doors, which have been installed as far as Russia and in North America.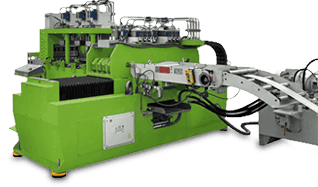 The production system always consists of a Dalcos coil punching machine, which offers the flexibility required for non-stop production of door frames with differing dimensions, thanks to parametric layouts.
After the roll forming Dallan then shapes the product, while the stamping system at the end of the line is for drawing as well as 90° and 45°+45° cuts. This characteristic machining employing the exclusive technology of Dallan lines results in frames with an excellent finish obtained much faster than by sawing.
The lines are also fitted with the patented Dallan®COMBI and Dallan®COMBI electro-hydraulic tool change systems whereby a complete production change can be accomplished in one hour.

Please contact our sales office at [email protected] or call +39 0423 734111 for more information.