Dalcos® EXN electric punching machine

Dalcos presents the new DALCOS® EXN, the highly reliable electric punching press with a new actuator that can reach up to 500 strokes a minute when nibbling. The electric punching system has been designed, built and tested for more than 20 million strokes just in the pre-production stage. It has finally been integrated into the first Dalcos® machine and presented at the Euroblech trade fair in Hanover.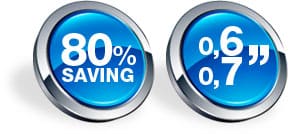 The latest version of the electrical system offers up to 80% energy saving compared to the previous hydraulic version on the same machine.
The punching speed is such that excellent averages of 0.6-0.7 seconds per stroke can be maintained, a speed that had already decreed the success of the preceding Dalcos® UNIKA with hydraulic actuator.