Fast, precise punching for metal profiles with the new servo press PR-200 strokes a minute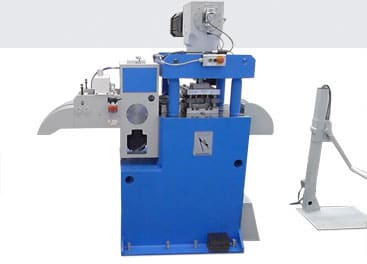 Years ago, all that roll-forming machines had to do was bend the metal sheet. Nowadays the roll former has become progressively more part of a production process designed to deliver a finished product and which requires many machines connected in series: decoilers, straighteners, shears and punching machines through to packaging machines and stacking/storage systems. Dallan® made a name for itself as a specialist in specific hi-tech production systems for profiles from the moment it started business.
Various profiles – such as the carrier for suspended ceilings – require perforations at regular intervals, which must be done with great precision since the end result mainly depends on the quality and precision of the basic profile.
Based on 35 years of experience in the suspended ceiling sector, Dallan® has developed a state-of-the-art system for the production of this particular technical element. It is a simple roll-forming line, which involves 6 steps preceded by the new PR-200 servo press. This machine generates a force of 15 tons and enables the sheet metal coil to be fed in at 200 strokes a minute with a precision of 0.1 mm, ideal for applying the carrier for suspended ceilings. The extremely compact system reaches a continuous production speed of 20 metres a minute.
Click here to request the video of the new machines >>