The new Siemens NX 3D design software

The Dallan Synergies Group has chosen to use the Siemens NX 3D design software.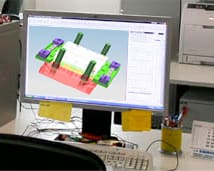 This software, formerly known by the name Unigraphics, is one of the most sophisticated development platforms on the market. Simeoni, the Dallan group company that designs and makes the equipment that is installed on Dallan and Dalcos machines, has been using this platform for the last 8 years to develop complex assemblies.
The investment in this computer technology fully reflects the Dallan® family philosophy, which has always emphasised the fact that design and engineering are the beating heart of the technology and solutions that clients receive, as shown by the compass on our logo.