Thirty years experience in creating roll forming systems
Article published in Sole 24 Ore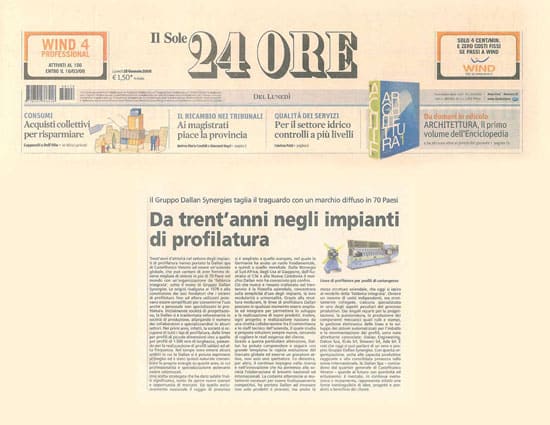 The Dallan Synergies Group has achieved a notable target of having its trademark known in 70 countries around the globe.
HISTORY: when Dallan spa was established in 1978 its founders were convinced that the roll forming systems used up to that time could be simplified so that even workers with no experience in roll forming could use them. Although it started out as a design and engineering company, Dallan soon became a manufacturer and expanded its number of employees accordingly.
Initially Dallan made all types of roll forming systems, ranging from lines for small profiles/sections through to lines for profiles/sections up to 1500 mm wide and also concerning themselves with high-frequency-welded profiles. Over a period of time Dallan realised it had gained more expertise in certain sectors and would be well advised to focus on these areas where all its professionalism would be evident while striving to increase its level of specialisation. This decision to focus its activity opened up new horizons for Dallan not just on its home market but firstly on the European market (in which Germany played a basic role especially at the start) and then worldwide. Today Dallan can boast of having supplied thousands of systems and plants to more than 70 countries across the globe: from Norway to South Africa, from the USA to Japan, from Australia to Chile and New Caledonia… just to name a few.