Dalcos® PXN, EXN and FXN: it's easy to choose the best coil punching machine for your needs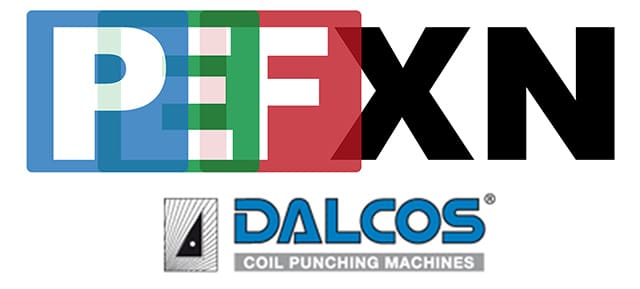 The Dalcos® division is organised to make choosing the ideal punching system clear and easy. The machines are divided into three families: PXN, EXN and FXN – and the new Dalcos website, which is under construction, reflects this new division.
The Dalcos® PXN (acronym of Punzonatrice X Nastri [Coil Punching Machine]) has made history in the coil punching sector, having been on the market for almost 25 years. It features hydraulic actuators to generate the cutting force and processes coils from 0.3 mm up to 4mm thick and up to 1500 mm wide.
It has a simple and extremely sturdy structure that is easy to maintain and operate and the quality of the initial design is confirmed by the fact that the first machines are still up and running after almost 25 years.
Dalcos® PXN has anywhere between 2 and 11 controlled axes and is ideal for companies which have their own product and want a cost-efficient solution for inserting in line with rollformers, panel formers and press brakes.
Dalcos® EXN stands for Elettrica X Nastri (Coil Electric Machine). This machine features the Dalcos® Select electric actuator, which allows a very high degree of energy efficiency and reliability in operation to be obtained. The EXN machines coils up to 1000mm in width and has a configuration of tools which can evolve according to customer needs thanks to the interchangeable tool post arches. This is the most advanced Dalcos machine suited to those who seek a high degree of flexibility (such as jobbing firms) and also keep an eye on energy consumption.
Lastly, Dalcos® FXN stands for Foratrice X Nastri (Coil Micro-Perforating Machine). This family comprises all the machines that make micro perforations using mechanical or electrical presses and dedicated machining dies. The FXNs range in width from 300 to 1300mm and are tailor-made for different applications: suspended ceilings, motorway sound-absorbing panels, bakery trays and burners are the most popular.