DALCOS® — VEGA FEEDER

For coil punching and perforation applications Dalcos uses feeders that adapt to the characteristics of the material being worked as well as to productivity and flexibility requirements.
The most innovative and versatile feeding system is undoubtedly the patented feeder VEGA, which uses two clamps that move in opposite directions.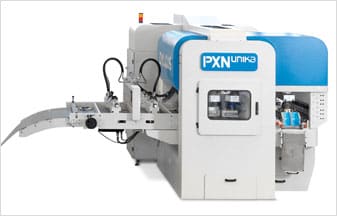 The benefits of this system are many:
— possibility of machining pre-finished and delicate materials with or without peel-off film;
— the pressure is distributed over a wide area so that adherence is good without damaging the surface;
— the firm grip of the clamps ensures far better precision than with traditional roller feeders, especially when machining complex pieces which entails moving the sheet back and forth (that is why the new PXN UNIKA works faster);
— moving clamps means that the number of times the coil has to be gripped is halved, all to the advantage of speed and precision.
To understand the advantages of each type of Dalcos® feeder more in detail, just go to www.dalcos.com where you can download the article which analyses them.