DALLAN® — SYSTEMS FOR VENETIAN BLIND PROFILES


Dallan work to extremely high quality and production standards in making machines and complete systems for the manufacture of external Venetian blinds with and without folded-edge slats. Dallan have always enjoyed a reputation for making excellent quality sections and profiles and over the years have also developed and filed special patents for obtaining very rigid Venetian blind slats.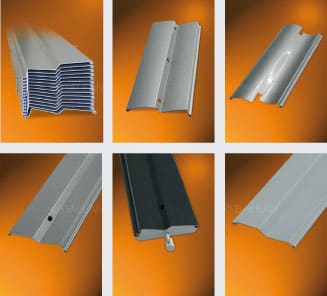 The wide range of available profiles include the simple flat C-shaped slat, which allows a highly compact bundle to be obtained and therefore occupy less window space, the folded-edge C-shaped slat with or without rubber gasket for noise reduction, Z-shaped slats, S-shaped slats in varying widths and splendid special profiles with exceptional reflecting properties, which allow better light control indoors.
The exclusive roller change systems, like the Dallan Combi® technology, allow the production changeover in less than 20 minutes, with all the roll forming equipment ready mounted to obtain a top quality product with minimum adjustments.
Dallan production systems range from the simplest start-stop roll former, which works at 30 metres a minute, up to the high output machining line with flying shear unit which works non-stop at over 60 metres a minute.
Over the years other machining centres have been added to the roll former to obtain, for example, embossed (Dallan® patent) and flat holes for the wires, and to complete the Venetian Blind with a simple expandable modular system.
The Dallan Venetian Blind production system may in fact be integrated with:
— system for application of end pins on profiles of Venetian blinds for sliding in the guides
— system for insertion onto ladder (mainly for C slats for Venetian blinds)
— system for application of the side hooks (for rolled-edge profiles)
— system for application of the hooks on loop tape (for rolled-edge profiles)
— manipulators for transferring the blind to the subsequent machining centres
All this has been achieved thanks to the ongoing technological developments by Ada, the Dallan group company specialised in making automated systems for the assembly and packaging of the profiles.
The system operates with parameter-driven devices and production data can be sent to the line in a practical excel format, involving little operator intervention.