Elda Srl — Industrial automation systems

Elda Srl is the company in the Dallan group that specialises in the production of industrial automation software and systems in the form of switchgear and electronic control systems. Elda is controlled by Dallan Spa and was established in 1996. Initially the company only developed simple control systems for roll forming machines employing start-stop technology.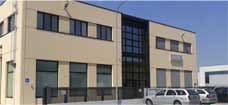 Then the first on-line cutting and first roll-forming lines arrived. Elda's engineers and developers currently produce control systems for complete Dallan plants, which include profile manufacture, bonding, assembly, boxing of the finished product, quality control systems with vision camera and warehouse logistics (with picking up and positioning of the boxes of product onto differently configured pallets using anthropomorphic robots).