STOP! Read this before buying your next roll forming machine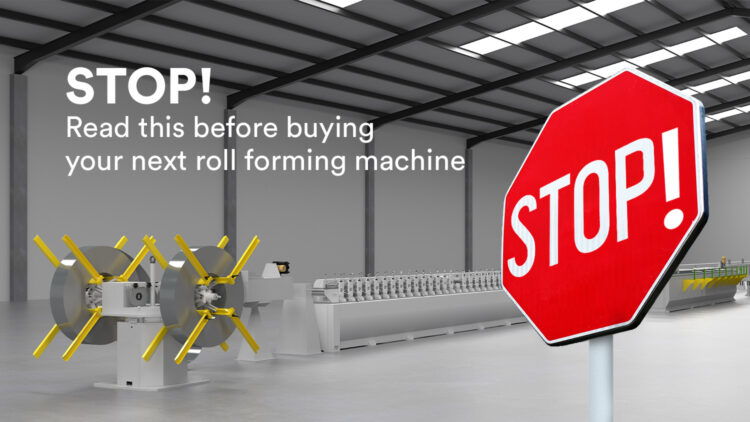 How do you know that the machine you are investing in is going to last for decades?
You choose the right supplier!
For this reason, before investing you should ask yourself and your supplier these 7 FUNDAMENTAL questions.
Experience, Structure, and Production capacity of your supplier.
In today's market you will find Roll forming machines companies that produce just 2 machines in a year, and others that produce more than 80.
Which company would you choose to serve you? Does the company have at least 40 years' experience in the field of roll forming? Is the company ISO 9001 certified?
Is the company specialized in your product type?
How many times has the supplier made machines for your type of product? Would you trust a company that has produced your profile type just once or only a few times?
Roll forming is an evolving world and each manufacturer has developed specific set of skill according to the different markets such as rolling shutters, drywall profiles, shelving profiles… make sure to check the references!
Reputation of the company/supplier and their Balance sheet
Check the supplier's balance sheet and profit/loss statement, is the company healthy and financially solid?
For example: would you buy a 500.000 Euro or a 1 million Euro machine from a company that just makes 1 million in annual sales? What happens with your down payment and your project, should your supplier have financial problems?
It is important to check their website and social media network, as well as the reviews of the company. For example, how many reviews are there on Google? Are they positive and how are they commented on?
Be sure to also check the negative ones!
Has the company an autonomous Service structure?
You are going to use this machine for many years. Does the supplier have an autonomous and adequate service structure capable of assisting you in your market? Can the supplier provide teleservice? How many people are employed by the supplier?
It's important that suppliers in today's market have experienced technicians, a dynamic management team, and a capable technical team that will ensure that your machine will be well taken care of and serviced for many years to come!
Does the company have an internal software department?
Too many roll forming machine companies have their software being produced form third parties.
This is the recipe for disaster: if there is no internal software department, they will not be able to assist you in the future!
This is true for service, modifications, and improvement of the software, not to mention all the problems that would arise with Industry 4.0 requirements!
How much material is available about the supplier and the products they offer on social media?
Have you checked the company's LinkedIn or YouTube channel?
The amount of available content such as product updates, or videos will give you a good idea about the type of machines the company produces.
Is the management showing in first person? How is the quality of the content? Are the videos informational and easy to understand?
Reviewing these platforms will give insight into their level of experience, knowledge, and reputation.
Literature, Exhibitions, books and articles, Podcasts and Webinars.
A quick check on the company's website and you will find out quite a lot of information about the company you are considering. For example, is the company attending international exhibitions.
Do they have adequate coverage and explanations about the projects they have completed.  Do they share information about case studies or share customer reviews. Have they published books on manufacturing and Roll Forming Technology?
It's important to ensure you are in good hands when you make such a long-term investment!
Another interesting aspect to look into is, has the company produced any podcasts? Published: podcasts are a very effective tool to get in touch with your suppliers' values and corporate culture.
Last but not least, check and see if your supplier publishes any Webinars for the presentation of their machines. For example, at Dallan there is a strong and consistent program of webinars that are called Masterclasses, by which complete lines, product details, and automated solutions are presented in great detail!
These webinars can give specific application-based information. They detail product offerings and the advantages of different solutions to help you make the best decision on the technology that meets your needs.  Dallan produces Masterclasses that take place every second Monday. They are recorded so they can be accessed later with login and password. Currently there are more than 50 Masterclass videos that you can access and enjoy directly, without the need to wait for the next one!
Register HERE to enroll to Dallan MASTERCLASS series: you will get a notification via email each time a new Masterclass goes live.
You can also contact us at [email protected] to ask for the login and password to access immediately the last two years of masterclasses!