Flexibility in profiling lines: the COMBI system for quick tool changes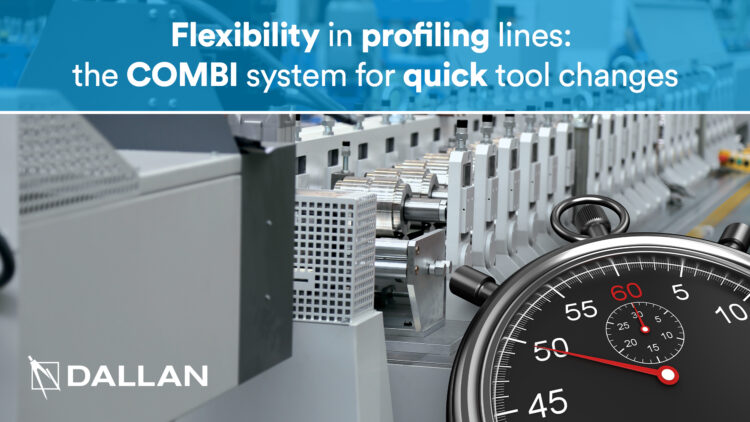 One of the instruments of Lean Production is the SMED technique. This technique focuses on the retooling speed of production lines and means Single Minute Exchange Die.
The goal is to retool a line (with a new coil or a new die) in less than ten minutes.
This instrument clearly addresses the problem of Flexibility, doing so in terms of Efficiency and Productivity.
On roll forming lines, the issue of productivity linked to flexibility arose, for example, in production lines for armored door frames.
Taken from the book "The Revolution of Efficiency"
Companies often switched to roll forming, because sheet-fed processing produced waste that could even exceed 20 percent.
Moving to roll forming, using inadequate systems (which, for example, didn't include a coil-fed parametric punching machine or the Combi quick change system), product changeover times from one profile to another were so high that the process only became advantageous for batches that required at least a week's worth of work.
The parametric punching machine combined with the Combi production change system for rollers and dies – already discussed in the previous chapter – resolved the issue of flexibility related to the production of armored door frames. Indeed, different sized individual frames could be produced
for frames with different sizes and processing needs, achieving the renowned batch of one.
Or, as Giovanni Maffei calls it, the "Zero Standard" production: a term that indicates the system is prepared and always ready to produce profiles of different sizes without set-up times and without the need for human machine programming.
In the door & window fixtures, armored door and fire door sector, when a machine needed to produce different profiles, a changeover of tools was required: the Combi system for rollers and dies meant changeovers took less than ten minutes for each group and less than one hour in total.
Manufacturers found the same problem in the suspended ceiling profiles sector, where the first machines were lines prepared so that they could make numerous profiles and where changing rollers to switch from one profile to another could take hours or days.
That's why it was important for them to clearly identify the solutions that would increase productivity, reducing set-up times to less than an hour as often as possible; even lowering them to under ten minutes, where possible.
As we'll see, the Combi system for rollers and dies had a dual function: it increased productivity – reducing production changeover time – and, at the same time, increased the flexibility of the system.
Flexibility: the Combi system for roll forming
When it comes to roll forming, traditionally the rollers of each set are mounted on overlapping rollers.
The rollers are disassembled to switch from one profile to another and the set changeover time can take hours or even an entire day.
That's also because, in addition to the motorized rollers mounted on the shafts, tangential forming rollers mounted on support accessories are often needed.
This involved exceedingly high set-up times and is why the technique has evolved towards systems with interchangeable drawers, where groups of rollers are mounted on special assemblies.
Drawers typically include groups of four or six rollers, and it's a problem because:
Multiple drawers need to be mounted to change product.
In addition, each drawer needs to be connected to the transmission, which often consists of multiple cardan joints.
This would still represent a very long time for changing tools, but the Combi system resolves both problems in a simple way.
The Combi system used on Dallan machines is unique.
In fact, Combi groups include the following on an aluminum base:
Gear transmission (spur teeth, helical teeth or crank handle system)
Transmission lubrication system
Shafts already height-adjusted
Rollers already adjusted to the correct thickness
Accessories mounted on the aluminum plate and already adjusted
Sheet introducer
Straightening group with rollers
The Combi group only has one toothed gear wheel on the outside. There is a similar gear wheel connected to the motor and the reducer on the base.
When the Combi group is placed on the base, it centers itself on special alignment pins so it can quickly go into position and, at the same time, the two gear wheels mesh with one another.
The video below shows the replacement of a Combi group:
The machines equipped with this particular Combi system therefore employ the SMED principle taught by Lean Production (Single Minute Exchange Die), which teaches how to organize machines and production so that changing a tool takes place in less than ten minutes.
The Combi system also provides four other notable advantages.
If there is one system and several sets of rollers, two Combis are sufficient. The former works on the machine, while a technician can change rollers on the second Combi away from the machine – as they say, while it is operating.
If there is a system that requires a lot of power, instead of having a single large special motor, we divide the system into two or three sections with independently powered Combi groups, using smaller, standard motors. This makes it possible to change the speeds of the various areas of the machine by keeping the profile in traction until the end and improving straightening further still.
In addition, the Combis are exceptionally reliable pieces of equipment. In over forty years in the business and working with thousands of Combi products, no problems have ever been reported.
Combi groups practically last forever. When a system is over twenty years old, it's often the case that safety regulations have changed, its electronic components are obsolete and spare parts are no longer available.
The only thing you can replace is the base of the roll forming machine and the system, following which all the existing Combi groups and sets of rollers can be reused, since new bedplates are compatible or can be rendered so.
That makes it possible to have a new system that is compliant with modern standards with minimal investment, using existing Combis and dies!
Lastly, there's another very important aspect.
When you start working, it is quite normal to have just the one bedplate equipped with multiple Combis for different profiles.
When demand for production increases, given that the investment in equipment has already been made, you can double production by simply investing in a bedplate and reusing the existing Combis.
By doing so:
Product changes are halved
Production reliability is doubled
As a result, production always more than doubles!
Eros Damilano is the owner of Damilano, a company based in Cuneo specializing in the production of profiles for third parties. Eros bought his first slat roll forming machine from my father in 1984 and started production in his own garage. It was a small space, so profile unloading took place outside the garage and Eros would load the profiles straight into his delivery van!
Today, he also has other companies and Damilano has 20 operating Dallan lines.
Damilano produces the rollers for his lines internally, thereby adapting to market demands. Below, Eros Damilano, owner of the company, tells us about the work carried out together with Dallan roll forming machines and Combi systems:
"The Damilano Group currently has 20 roll forming lines that make about 500 types of profiles, 70% of which are based on the customer's design. We process about 1,000 tons per month with the help of 80 employees.
We introduced roll forming for the production of suspended ceilings, which used to be done by 3 or 4 companies in Europe, while in Italy there was only Hunter Douglas, based in Milan, and Metal Sadi, based in Vicenza, meaning that there was plenty of space to enter that market. Ironically enough, two companies purchased the first roll forming machine from Ingegnere Dallan, who unveiled it at the Saie fair in Bologna, us and Tecnesa, based in Marene, just a dozen miles away. Luckily, we managed to avoid a trade war!
The first roll former was purchased in 1984 and loaded up at Dallan's workshop, after a very long test, at 4 am on a particularly rainy day. Dallan's manufacturing took place in a small warehouse in an agricultural area and we had to call a farmer, a friend of Ingegnere Dallan, to pull the truck out of the mud with his tractor.
Given the lack of money and space back then, the roll former was set up in a garage and when it was time for roll forming, we opened the garage's rolling shutter and went out on the street with the profiles: when there were particularly long bars, we had to double park our cars to hide the problem!
Subsequently, since we considered roll forming to be a niche business, but one which had the potential to develop, I introduced the production of profiles for plasterboard, which at the time were only produced at a rate of 10/12 meters per minute: nowadays, things are infinitely faster, but we later abandoned that sector to concentrate on thicker, more complex and perforated profiles based on drawings.
The first punching machine to perform perforations on coils, purchased from Dallan in 1988, consisted of a hydraulic unit with 5 stations, thereby permitting 5 different types of processing in fixed positions, but Dallan soon designed the Pxn, a flexible coil-fed punching machine with 20 mobile tools, which gave us an enormous range of punching options and incredible flexibility.
The choice of working with coils allowed us to replace press-forming in many cases, reducing waste to almost nothing, eliminating the constraints related to length, allowing a reduction in the cost of the various perforations, which were performed in-line almost while the machine was still operating.
Another very interesting development by Dallan was the construction of roll forming machines with Combi groups: for example, in the production of sheet metal armored door frames, that allowed us to keep the various pieces of equipment mounted on the various Combi groups and therefore be able to change production in the shortest of times!
On the other hand, when we produce our 500 profiles based on drawings, Combi groups allow us to mount the rollers on the heads and away from the machine, while it is operating. By doing so, production changeover time is limited to only the replacement of groups and the assembly of cutting dies, resulting in time saving of about 60/70%!"
Eros Damilano
Taken from the book "The Revolution of Efficiency"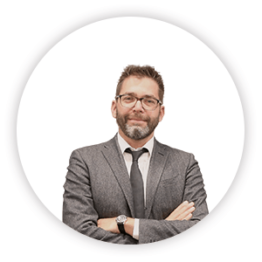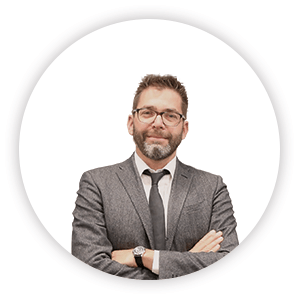 Andrea Dallan
CEO – Dallan Spa