How to design excellent roll forming products: the origin of the Dallan compass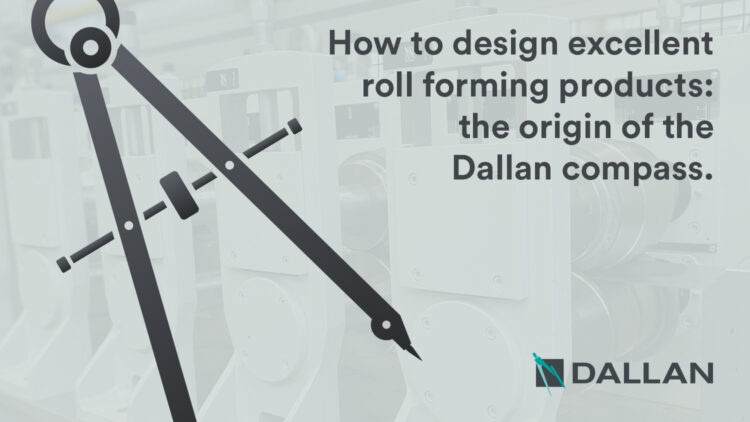 When I started working at Dallan, my father explained that in order to provide solutions to our customers, we need to study a lot and get to know the products and solutions in each sector at least as much as they do.
That is absolutely true and necessary.
It's also the reason why, at Dallan, we've developed specific expertise in certain sectors, such as: interior finishing -plasterboard profiles, T-bars and suspended ceilings – and sun protection – rolling shutters and Venetian blinds – in which we're considered specialists: indeed, lots of customers come to visit us for new ideas on new products they can launch on their markets.
Taken from the book "The Revolution of Efficiency"
My father taught me that the quality of a profile and the simplicity required to producing it depend on careful design.
Indeed, he introduced a rule that any request from a customer, be it a sample, a hard-copy or electronic drawing, had to be re-designed by our technical office.
There are multiple parameters that need to be taken into consideration and which are linked to the smallest details in the design of a profile.
These concern a multitude of elements that derive from our experience and below is a list of some of the most important:
Profile functionality
Pairing it with accessories and other profiles
Shape and radii of bends
Type of coating
Presence of protective film
Function of the lubricant
Spring-back of the material
Characteristics of the material
Optimization of the material and raw material
The goal is often to look for more complex shapes using thinner materials and with less development, while trying to maintain the same rigidity and function.
In short, this is a Design for Manufacturing process, meaning that we design the product so that it can be produced – simply – using roll forming technology.
Even before founding Dallan as a small technical office, my father was a designer. Even now, at 75 years of age, he still sees himself as one.
When choosing a symbol for Dallan, he chose the compass to represent that, for Dallan, the quality of the finished product starts with the quality of the design and the study of the customer's profile. Everything is carefully planned.
At the beginning, the compass was placed on a grid and this was the case until the end of 2018, when we decided to change the company logo and make the way Dallan was written more modern and readable.
When our marketing manager and the agency that looks after us suggested removing the compass, my father said: "When you convince Ferrari to remove its prancing horse, Dallan will remove its compass".
It was an excellent reply: the compass represents Dallan's entire working philosophy, in which everything starts with listening to customers and design quality.
Technology for excellence
During the 2019 Lamiera fair, an Italian client of mine came to us with a request that was far from unusual.
They had four systems installed in 1993 and asked us if it was possible to transform them in line with Industry 4.0.
The point is not whether the transformation was possible: the point is that the machines, after operating for almost thirty years, are still fully functional.
Excellence is a principle that can be found in every aspect of our work, and as already mentioned, everything starts with design.
Designing according to this principle makes profiles repeatable, functional and simple to adjust. By doing so, there is no need for expert personnel to operate the systems.
However, to get the result realized by my customers, the principle of excellence must also guide our management, design and construction choices, as well as, above all, the choice of construction materials and the selection of personnel.
In 2008, we registered a trademark: "DALLAN TECHNOLOGY FOR EXCELLENCE". One of our Italian competitors liked the concept so much that they copied it.
Fortunately, using the word "excellence" is not enough. Since 1978, my father has taught me that patents are the main driver of innovation at our company and we've registered more than a hundred in recent years!
Our patents range from simple innovations, such as the Nonio (which we used on all Combi groups to simplify adjustments), to patents on actual products, such as T-bar hooks and hooking systems for rolling shutters.
In our vision, innovation is a dynamic process: technologies have to become simpler to use, they have to create a product and a result of excellent quality for the customer.
This can only be achieved by working closely with our customers, in order to further improve our machines and their performance.
Taken from the book "The Revolution of Efficiency"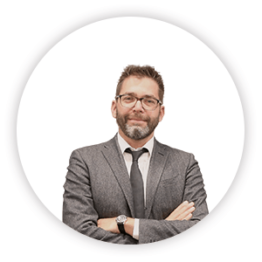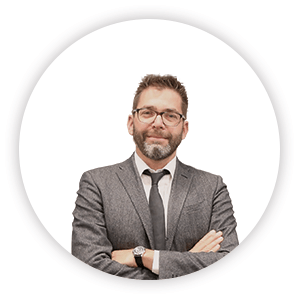 Andrea Dallan
CEO – Dallan Spa