VIDEO – Extraordinary 240m/min drywall profiles production system
This article intruduces the extraordinary Dallan Coil To Pack system for the production of drywall profiles, that reaches the incredible  total speed of production of 240 meters per minute.
This exclusive solution consists in the combination of two Dallan D4K lines, each working at 120 meters per minute, in which the produced packages converge into the same strapping unit positioned at the end of the system.
Subscribe to our Youtube Channel
Two lines, many profiles.
Each of the two lines starts with two 3+3 ton decoilers, after that there is the Dallan high speed rollformers that can produce different profiles (stud and track),  for drywall structures.
Dallan COMBI technology allows for the ultra-fast production changeover  in order to easily manage different profiles in the same line.
The flying shear includes 7 punching tools on two moving carriages, to perform a multitude of holes along the profile, both flat or embossed.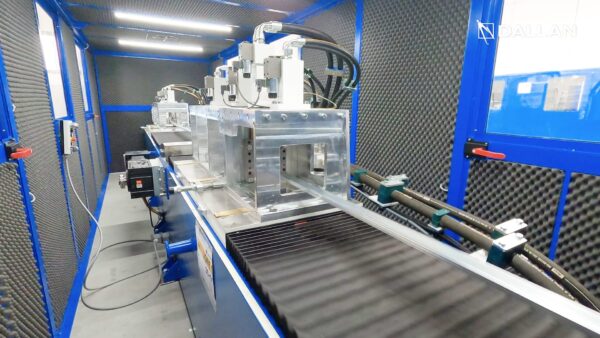 Double automation, efficiency squared.
After the cutting unit, each of the two line has a Dallan A10 machine that creates the small bundle that are delivered to a small strapping machine and finally to a Masterpack unit that creates the layers of the big bundle.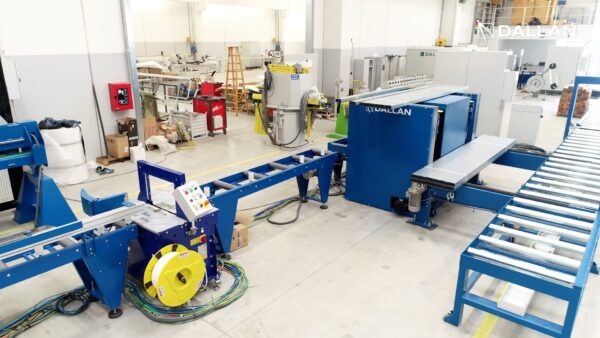 Unique final output, perfectly synchronized.
The bundles are than strapped to block the profiles in packs that have a dimension up to 600x600mm.
Over these chains, these sub-bundles are coupled and finally delivered to the final Dallan A12W strapping machine that also inserts a timber tile underneath the two packs. In this way the final masterpack has a final base of 1200mm.
After creating the big bundles, the packs coming from the two machines converge to the final unit, and the packs are stored in the final exit point of the line.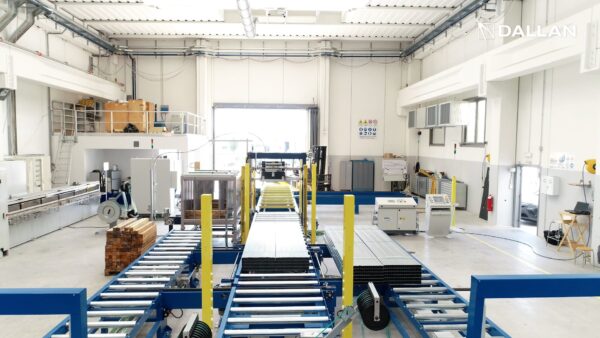 The best combination of technologies.
This unique Dallan system offers you the perfect combination of productivity, flexibility, reliability and automation since it produces and packs all the C, U and ceiling profiles of the Plasterboard system, with the experience and all the support of Dallan professionals!
All Dallan systems can be customized and tailored to your facility: contact our experts!