The fall of enrollments in professional schools: more than halved in the last 16 years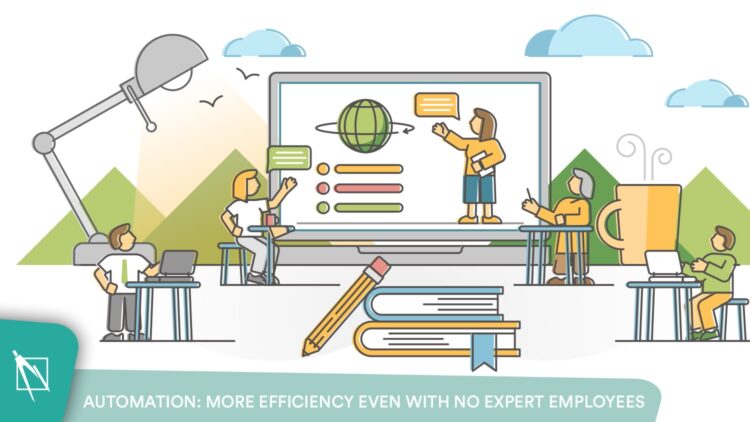 Did you know that enrollments in professional schools have more than halved over the last 16 years?
On June 27, an Italian survey published the latest data: of over 540,000 students, 54% chose high schools, while only 14.4% chose a professional path. 16 years ago, it was almost 30%!
What does this mean in a country with a deep tradition in manufacturing and craftsmanship? Think about it: most of the small and medium-sized companies are facing a real generational change.
The employees who worked with the entrepreneurs from the beginning of the activity are now retiring, and almost all companies in our metalworking sector must find new technicians to whom they can transfer their know-how as soon as  possible.
Data in hand, most of our boys are choosing the path of high schools and  therefore, the University: as if noble manual labour was no longer "sexy" as it once was!
Added to this, because of Covid, companies are required to enlarge the  so-called social distance. Smart working from home can be a good solution for IT service companies, where people can do their work independently and send it via email.
But in our metalworking  companies, we have to receive and transform raw materials, to create machines, metal profiles, shelvings and so on.
Like many companies, we are at a crossroads.
It will be increasingly difficult to find young people to whom to transfer the secrets of our know-how.
Clearly, it seems that our young people are less and less interested in manual labor, on "getting their hands dirty". I think that this is a wrong way of thinking, because in the next few years who has a hose with excellent manual skills will be paid more than a lot of officers.
As entrepreneurs, we must ensure continuity and growth of our companies: but looking at these trends, we can't only hope to be the "lucky ones"  who will find a specialised technician that also wants to learn the "art of the masters".
We know that luck and fate don't exist. Not taking any initiative, now, means, in the short term, to have a company in which where the main value, that is the know-how of the historical technicians, will be lost irreparably.
There is also another aspect to consider: the young people who finish professional studies are not so attracted to a heavy mechanical job. They are smarter and, at least those who ask to work with us, more ambitious. They want to have a responsibility and find a practical way for their knowledge.
Many companies in the profiling branch are in this same situation: they can't find enough technicians to transfer their knowledge, and the few that they find, don't want to carry out the job in an "old way".
How would you feel, as a company in the metalworking and profiling sector, staying blocked in this situation? Progressively losing your know-how and watching at the company dying out because of the exit of the last specialised technicians, it is a heartrending scenario.
What if there would be a way to transform this generational change – an epochal change for every company – into a great opportunity?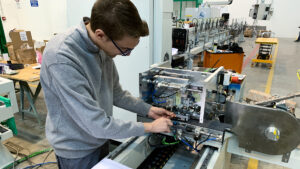 Rethink the product and the process with design for manufacturing
If we would be able to transform our processes to produce  great quality products, using less technical staff, and making even "sexy" the job of a professional technician?
I will bring you an extraordinary exemple, that comes out directly from the experience of a client of ours.
The company works in the roller shutter branch. This is a very competitive branch and, traditionally, requires a lot of manpower assembling curtains.
The "historical" technicians were close to retired, and the company couldn't find enough professional technicians to replace them. So they decided to call us for a project for the automation process.
The system  we introduced is called "coil to window", that means: starting from the aluminium coil, in three minutes we pass to a roller shutter curtain, already tailored, pierced and ready to be packed. All of this, using only one worker  – that becomes a line wire, more than an assembler – instead of four persons!
We made an investment analysis with this Austrian customer: it turned out that, compared to his current  work cycle, which produced a waste of 12%, the new "coil to window"  process produced  less than the 3%. Only with the savings in materials, this process produces 150000 Euro of positive cash flow per year with a single line.
The result: he bought three coils to window lines at once that paid off in less than one year, and today he is planning to buy two more lines!
This is only an example of  how automation is becoming a solution for even more companies settled in the transformation branch: from the analysis of processes,  developed with branch experts, it is not only possible to guarantee work continuity, to "decode" the machine code of our production branch, to make it repeatable and industrializable.
Why should you automate your production processes?
And how would you feel if, after analyzing the processes, the possible automation and the savings generated by the process, you were able to build up a company no longer subject to  people, but where the success is guaranteed by the quality of the processes that are becoming, at the same time, more sustainable and more profitable?
Well, maybe this is not possible for all the companies. But if you work in the thin sheet  sector, today there are automation and efficiency growth possibilities that you must know.
Today you have the possibility to know Dallan, the branch specialist, and all the latest news about the more automated productive systems that you can find in this sector, contacting our experts at the address: [email protected]. We will explain to you, in detail, how to correctly codify the processes to secure your know-how, how to introduce the maximum automation of your specific process – garantising the necessary flexibility – and which efficiencies we will generate together.
And more efficient processes, means even more cash flow for your company.
Don't postpone this important decision: we are already waiting for you!
In Andrea Dallan's book "The Revolution of Efficiency", Mr. Höckele, production manager of RIDI Leuchten GmbH company, explains a very interesting application of these principles.
The Revolution of Efficiency is available in the Amazon catalog: follow the link below to see

Buy The Revolution of Efficiency at Amazon!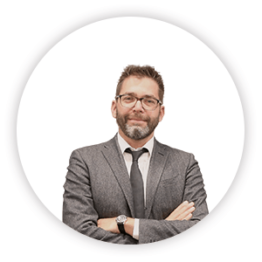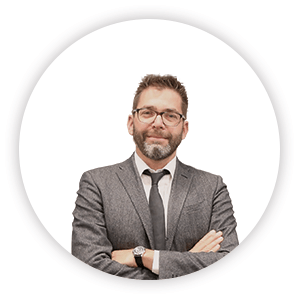 Andrea Dallan
CEO – Dallan Spa