Metal profiles for T-bar ceilings: The Coil To Box system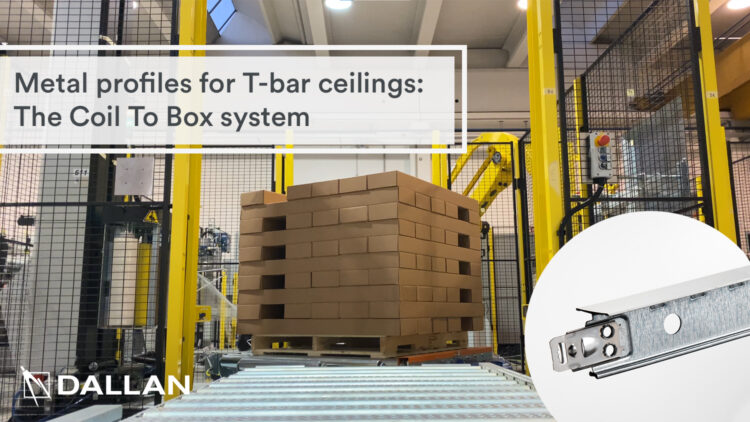 One of the first products we specialized in were profiles for suspended ceilings, and that's where our specialization in aesthetic profiles started.
One of these profiles in particular, the T-bar, is a very technical profile, with an inverted 'T' shape that is mounted to form a grid, on which ceiling panels rest. Typically, these square panels measure 60 centimeters each side.
The grid-like structure (T-grid) consists of three types of profiles: the load-bearing or Main Runner, 3.6 meters or 12 feet in length, and two types of intermediates: the 1.2 meter (4 feet) Cross T and the 0.6 meter (2ft) Cross T.
These profiles have a galvanized sheet metal body which constitutes the supporting structure of the profile and is not visible. A pre-painted sheet metal covering goes over the T-profile and is the only visible element once the structure and panels are mounted.
Taken from the book "The Revolution of Efficiency"
As a company, we immediately specialized in this type of profile and in over forty years of business we have produced lines for every type of T-bar: different thicknesses and heights and with many different types of hooks.
From the first lines with relatively low levels of production, over the years we have progressed to lines that produce up to forty Cross T profiles per minute and ten Main Runners per minute.
In 2008, a multinational asked us to develop an even higher capacity system. Their goal was 80 pieces per minute for Cross T profiles and 27 pieces per minute for Main Runners.
That meant linear speeds of over one hundred meters per minute.
These profiles were usually manually packaged in cardboard boxes which were prepared and sealed by an operator. At these speeds, manual packaging was not an option.
At the time, we had already produced simple semi-automatic packaging for Cross T profiles and the first automatic packaging system that assembled the boxes for Main Runners.
We had to put together all the technology available at the time and we managed to deliver the first Coil To Box systems on the market. Only one company was able to supply a T-profile production system and a packaging system, as well as the palletization of boxes. For this last operation, we added two palletizing robots to the end of the lines.
The Coil To Box system for Cross T profiles had a maximum speed of 80 pieces per minute and operated at one hundred meters per minute.
The profiles were cut in pairs and sent to two punching systems with stainless steel hooks being added; from there, they went to two packaging machines, each of which pack aged at a rate of forty completely finished profiles per minute.
The box was assembled directly in the machine; the profiles were placed inside, and the box was glued together. Every operation was perfectly coordinated.
Since the profiles could not be continuously checked by an operator, we interfaced the machine with a vision control to check each piece before packaging.
Once removed from the machine, the boxes were picked up by a robot, labeled and stacked onto pallets. The pallets were then either sent to the warehouse or off for shipping.
The Main Runner system operated in a similar manner, with a linear speed of 101 meters and 27 Main Runners produced per minute.
The speed of the Main Runner system supported the productivity of two high capacity Cross T lines and a system like this capable of supporting productivity of over 20 million linear meters per year on three shifts.
Coil To Box technology allows the management of very high levels of production using minimal personnel: in fact, the technicians managing the line mainly look after the logistical aspects, supplying the machine with the coils and cartons necessary for it to operate and unloading the pallets of full boxes.
In addition, automated packaging ensures that the profile is moved around as little as possible, avoiding knocks and damage to the finished product and each profile is checked by a vision system and placed directly into a box, where it is protected during all other movements.
Therefore, together with automation, a Coil To Box system offers very high productivity and quality in terms of the finished product.
Below is a link where you can see the Coil To Box system in operation:
AD Barbieri is a large Argentine company that produces profiles for interior finish products & suspended ceilings. We began working together on production lines for T-bars, which we completed with automatic packaging systems. Walter Barbieri, owner of the company:
"I had known Dallan for many years, having visited international trade fairs for roll forming machines and equipment. My sister Patricia and my brother-in-law Carlos Crupi, a director at Barbieri, went on a trip to Italy and I asked them to go and meet them. That meeting with Sergio Dallan and Marina Ripoli changed everything. In other words, everything got better!
Considering the values that both of our companies share, there was an immediate feeling of trust, which greatly accelerated our relationship.
I took a trip with our plant manager Sebastian Zarco to Castelfranco and Andrea also came to visit our company in Argentina. Together with Andrea, we began analyzing our needs, not just for the Argentine market, but also for our companies in Brazil, Uruguay and Paraguay.
I understand that both companies have many traits in common, but what stands out is our interest in growing and that this growth should impact the growth of our working teams.
Barbieri is a company that invests a great deal and that isn't just demonstrated by opening new factories, but also by expanding the surface areas of existing ones: we're innovators and we're continuously searching for the most advanced technologies. We were motivated to incorporate Dallan's new lines and we purchased our first three lines to manufacture T-bar profiles, then a roll forming machine for runners and uprights for plasterboard and we recently purchased packaging lines for T-bar profiles.
Working with Dallan allows us to continue improving.
I feel and, above all, I want our ties to continue to become closer and that will undoubtedly be the case as we add even more of Dallan's machines.
I can only say nice things about Andrea, he's a great professional and it's clear from every gesture and word he speaks, that he was born in a roll forming line factory."
Walter Barbieri
Taken from the book "The Revolution of Efficiency"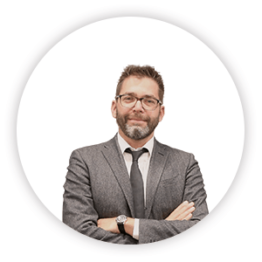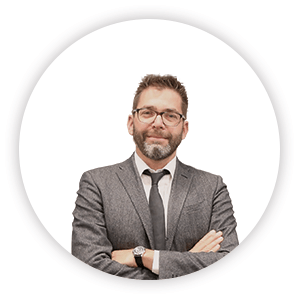 Andrea Dallan
CEO – Dallan Spa