Thin material roll forming: "Think Thin" the second book by Andrea Dallan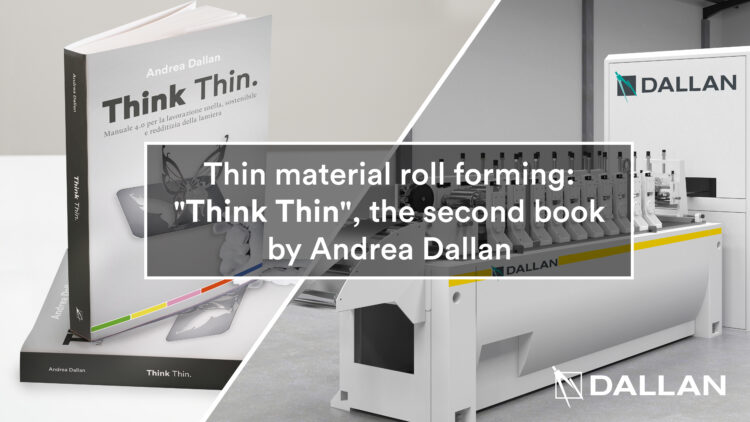 What on earth is left of any interest to say about the world of sheet metal working?
Nothing, you might think. Yet just one year after my first book, I felt a strong need to write a second one.
Let me explain why.
Well, I must admit, I wrote the first book on the emotional wave of the pandemic.
On the one hand, it gave me time to write during the long weekends while stuck at home.
While on the other hand, it allowed me to add a number of anecdotes and stories that made the book a lot more fun to read.
I certainly consider "The Revolution of Efficiency" to be my main body of work. Yet in the months following its publication, I realized that there were other aspects that also deserved to be explored.
Furthermore, I was preparing a training program for Dallan salesmen and service technicians, for which I had written several articles and documents that would serve as an internal manual.
Some examples include: how to design a thin sheet metal profile, how to choose the materials for a given type of pro file, and which aspects make one machine more profitable than another for a given customer.
These concepts are also undoubtedly useful to anyone working in the transformation and processing of thin metal sheets!
Hence the idea of rewriting our internal document still in the form of a manual, but adapted and rendered easy to use for publication.
My first book, "The Revolution of Efficiency" is about industrial processes in general. It was written for the world of sheet metal processing, the concepts of efficiency, productivity, flexibility, and automation which can be applied to any industrial sector from food to pharmaceuticals.
Unlike the first book, this new book is in the form of a manual and does not necessarily have to be "read from cover to cover": There are chapters that are dedicated specifically to your sector so you can fast forward to what interests you.
I recommend you use it, really USE IT, just like you would a technical manual.
The main focus of the book is on products, Industry 4.0 and integrated production systems which incorporate one or more Industry 4.0 concepts.
To understand why Industry 4.0 is so important, we need to consider the historical period in which this concept was first introduced.
It was 2011: manufacturing production, 80% of which was traditionally located in industrialized countries and 20% in emerging countries, had watched as the share in emerging countries increased to 40%.
In Germany, as we will see in more detail further on, there was a need to bring manufacturing activities back to Europe, making companies more competitive and keeping know-how in their own country.
"Know-how", knowing how to produce and manage products and services, is an increasingly strategic element.
It became even more evident during the crisis caused by the 2020 pandemic as Europe realized that it did not possess the factories required to produce masks, let alone enough vaccines.
That's not all. As we will see, Industry 4.0 is not limited to replacing obsolete facilities with more automated and connected systems.
I also don't think that automation will replace manpower: indeed, people will also have to become "4.0", so to speak.
Production staff will be involved like never before. Abandoning repetitive jobs and moving towards jobs with a higher added value, such as line control and quality control, in support of a more intelligent and efficient manufacturing system.
So yet again more productivity using fewer resources.
Let me try to summarize the benefits we expect from these new technologies and 4.0 production techniques:
• Flexibility – producing small batches at the same cost as large-scale production!
• Speed – moving more quickly from concept… to prototype… to production!
• Productivity – producing with lower set-up times, fewer errors, and less downtime (preventive and predictive maintenance)!
• Quality – through sensors that monitor production in real time and reduce rejects!
• Environmental sustainability – lower energy consumption and better use of raw materials!
I dealt with many of these aspects in my first book, "The Revolution of Efficiency".
Over the next few chapters, we will also see how improving sustainability and process control brings concrete, immediate and quantifiable (hence: profitable) benefits to companies that invest in these new technologies.
Clearly, it cannot all be done at once. We need to consider the 'as-is' situation and apply the concepts that give us the greatest benefits on a case-by-case basis.
As with our own in-house production, we advise our customers to apply the system that best suits each specific situation – starting with those that offer the best positive cash flow.
So, here is what we are going to talk about in detail. Feel free to skip to the chapter that is of most interest to you.
The following paragraphs are an in-depth look at Industry 4.0, which I recommend, if you wish to develop a detailed understanding of the structure of the 4.0 program and all its terminology.
So, let us move on to the ten parts of this manual.
Part 1 – Thin materials
This is where we discover why competence in the processing of thin and pre-finished materials is becoming an increasingly strategic competitive advantage given the trends in raw material costs. We will also see why the quality of a product, particularly metal profiles, needs to begin with its design.
Part 2 – Lean production
Here we explore the aspect of flexibility and the importance of reducing set-up times. Quick-change systems allow for more fluid production by adapting to market demands without the need for warehouse stock.
We then move on to products and their Integrated Production Systems. Each system that we will look at incorporates several concepts of Industry 4.0, starting with sensors right up to packaging automation and in-line quality control.
Part 3 – Rolling shutters
Here you will see how a perfect rolling shutter profile is designed, how the materials are chosen, and above all, how to produce finished rolling shutters of the highest quality very quickly with minimum personnel and no rejects.
Part 4 – Venetian blinds for outdoors
UAn outdoor venetian blind requires lots of accessories which can be assembled automatically in "Coil To Window" systems.
Part 5 – Profiles for Drywall
This section provides an overview of the various profiles and accessories that can be produced. It focuses on packaging systems and their configurations in automatic "Coil To Pack" systems.
Part 6 – Profiles for Suspended Ceilings and T-bars
The T-profile for suspended ceilings is a very technical product that goes back more than 50 years. We take a look at the various types of products and hooks on the market and the automatic "Coil To Box" systems that manufactures the product and packages it in cardboard boxes, starting from a coil.
Part 7 – Punching systems
Whether you work with a sheet-fed punching machine or a coil-fed stamping press, coil-fed punching machines offer enormous advantages in terms of flexibility and better use of materials. In this chapter, we take a look at how parametric programming can save you literally thousands of programming hours.
Part 8 – Efficient laser cutting
Sheet-fed metal laser cutting generates huge amounts of waste. Coil-fed laser cutting systems make it possible to save more than 20% in terms of raw material.
Thanks in part to the advanced sensors on "Coil To Laser" lines, such as vision systems.
Part 9 – Industry 4.0, Software and Service
The last chapter is dedicated to Industry 4.0 and software.
We take a look at automatic machine programming systems and discover what a MES is. We also discover how in-line self-correcting quality control systems work, as well as the importance nowadays of remote assistance, preventive and predictive maintenance, and continuous training services.
Part 10 – Conclusions
In the conclusions, I have included a few articles written over the last year, together with some interesting reviews of my first book. As I write this, Italy is back under the most restrictive lockdown rules, a full year after the first lockdown due to the pandemic.
I am certain that vaccines will allow us to get back to normal but I am also certain that some things have changed forever.
Some for the better. We have learned to work very productively using videoconferencing and this offers undoubted advantages and enormous savings in terms of time.
Therefore, we will probably travel less, in a more targeted manner and I imagine that trade fairs will also probably lose the central role they have always played in company communications. Digital communication and e-commerce have changed the business world, not just as far as B2C is concerned, but also when it comes to exchanges between companies.
The conclusions feature a chapter entitled "Sars, Mers, Covid… what next?", which includes the following concept: in our manufacturing world, we need to establish pandemic- proof production systems that allow greater distancing and remote control.
As I mentioned above, this book is designed to be "mistreated" and to guide you through the new reality of Industry 4.0. So, feel free to highlight excerpts, underline sentences, and rip out certain pages if you find it helpful!
My profoundest wish is that you will take away as many practical snippets as possible from each of its pages.
I do not hope it is the case, but it's now clear that as entrepreneurs and managers, we need to be ready for anything and everything. Especially since the solutions we need are close at hand!
I hope you enjoy the book and look forward to reading your comments!
You can e-mail me at [email protected]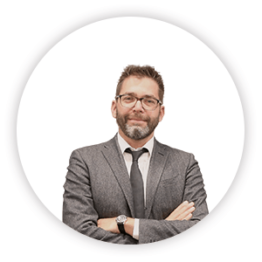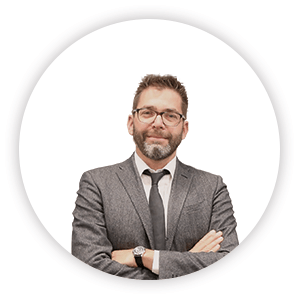 Andrea Dallan
CEO – Dallan Spa